Free Guide
Protecting your business assets: Lower your risks with a disaster recovery plan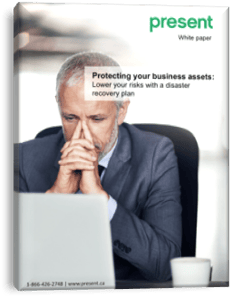 What did you tell yourself when you heard of the general IT blackout at Delta Airlines last summer?
1. This type of incident only happens to others;
2. It would cause panic if this happened to us;
3. We are ready to deal with any type of disaster; this could not happen to us.
If you answered 1 and 2, like at Delta Airlines, the continuity of your operations is compromised in the case of an incident.
IT incidents are both feared and underestimated, which is a paradox, but that is the case nonetheless. It's reassuring to know that measures exist to protect your business.
Download the guide « Protecting your business assets: lower the risks with a disaster recovery plan» to:
Understand the global impacts of a disaster;
Obtain a simple methodology to build your recovery plan;
Know the types of recovery plans, the pros and cons;
Address IT issues from a more strategic than operational angle.
Complete the form for free access to the eBook.